Please kindly see the below for the floorplans of the units available in Cairnhill Nine. Various floorplans are available to suit your family needs. Kindly take note that the floorplans are subjected to changes from the developer. There are other developments nearby which are enblocs for your consideration. Please see Canninghill Piers which is the former Liang Court enbloc by The Ascott Limited which handles the hote component of the development.
The layouts as can be seen from the floorplans feature huge master bedrooms as well as huge live in area that is available for the residents. The balcony also represents a small area of Cairnhill nine units and therefore this means greater live in area.
It is also noted that all the units comes with marble and/or timber flooring for its living and bedroom area. The kitchen cabinets are also complete with quartz stone or solid surface worktop for easy maintenance. There is also hot water supply that runs directly to the kitchen and all bathrooms in Cairnhill Nine.
---
1 Bedroom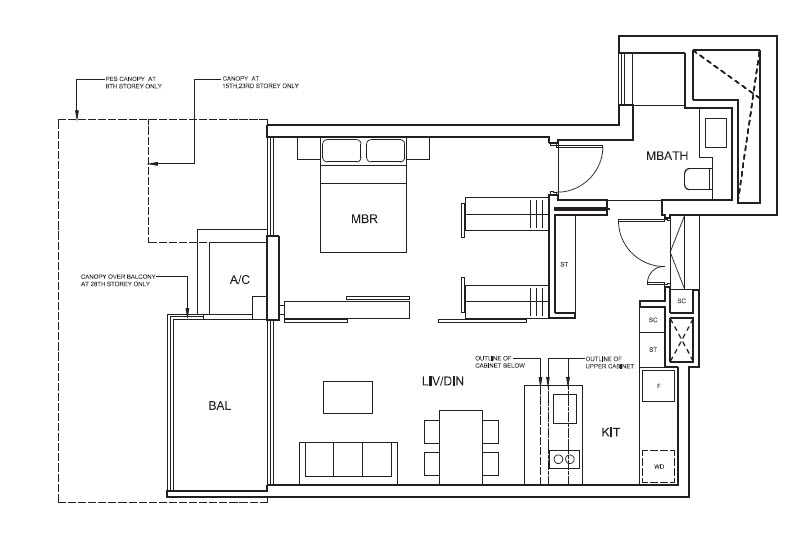 ---
1 Bedroom + Guest
---
2 Bedroom
---
2 Bedroom + Guest
---
4 Bedroom
---
Condo Orchard Somerset Floor Plans
Cairnhill Nine consist of 1,1,3 bedroom units available. Typically, there are 2 types of facing, Cairnhill Road or Bideford Road. As a general guide, units 6th floor and above are able to get a unblock view.
Also, it is noted that as Cairnhill Nine Capitaland is in the vibrant Orchard area, there will be potential for rental as well as short stays for guest who are looking to stay in the Orchard area and therefore the developer, through its planning, has introducing the guest room layout in its floorplans to cater to buyers who have frequent guests who are staying over at Cairnhill Nine.
Capitaland has also note that as Cairnhill Nine is a prestigious iconic development right in the heart of the city, it caters to different profiles of buyers and therefore the units are not to be too tiny as compared to typical shoebox units. The units are bigger and at least 500 sqft compared to other shoebox units in Singapore which are typically around 400 sqft. Its 4 bedroom unit in Cairnhill 9 are also an astounding 1,528 sqft which provide ample living space for different profiles of family as well as tenants alike who inspire to stay in the city and orchard area.
Also, almost all the layouts in Ascott Cairnhill 9 comes with walk-in closets to cater to the tight and busy schedule of working professionals. Many of them could be living in the city area and having a walk-in closet will be able to shave off a few minutes to get dressed and head off to work.
Orchard Condo
Please do not hesitate to contact us should you require detailed information on the unit. A full copy of the floorplans is also available upon request. Please read our disclaimer for usage of Cairnhill Nine floorplans.